Sustainability
One family, one planet
At Beaphar, we go all the way to ensure the wellbeing of pets, people, and planet. We are on a journey towards greater sustainability. Step by step.
At Beaphar, we are committed to making our business more sustainable. Today, more than ever, we take responsibility for keeping our planet sustainable for today's families and future generations. Our concern for sustainability is firmly rooted in our purpose:
"We go all the way to ensure the wellbeing of pets, people, and planet and care for each other and generations to come."
PSC accreditation
Beaphar received accreditation from the Pet Sustainability Coalition (PSC) earlier this month for its leadership in corporate social responsibility. Because we care for pets like we care for family, we need to meet our responsibility towards our planet, our people, our customers, and their pets. That is why we will make our business sustainable, step by step.
Creating an environmentally responsible business is a long-term project. We are proud to now be accredited by the Pet Sustainability Coalition with our company-wide efforts on sustainability.
Three pillars
Our sustainability journey is based on three pillars: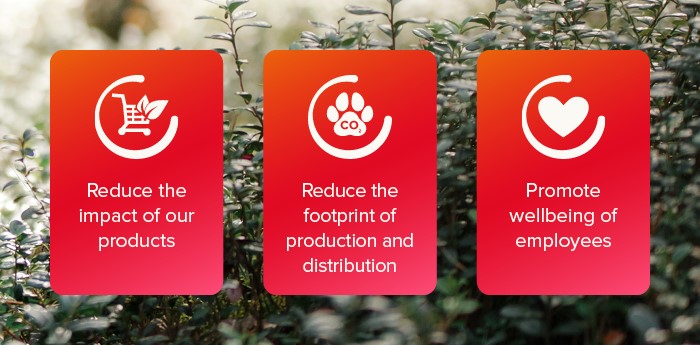 1. Reduce the impact of our products
We care to develop a product portfolio with zero impact on nature. Although our product range is in line with European standards, some of our products can have a negative impact on nature. Therefore, we want to offer natural alternatives for our full product portfolio by 2030 and contribute to the health and wellbeing of pets without impacting nature. We aim to make the transition towards the exclusive use of sustainable (active) ingredients with the lowest possible impact on nature by 2040.
First initiatives to achieve our ambition:
Actively reduce the burden of single-use packaging containers on the environment.
We aim to reduce non-sustainable packaging materials (such as plastics) by considering
and applying sustainable alternatives to our current and future product portfolio.

By 2025, our goal is to apply the "less or better" principle on 40% of our total plastic use.
 
2. Reduce the footprint of production and distribution
We care to reduce the ecological footprint of our value chain. For the production of our products, we use natural resources. We have raw materials transported and products shipped throughout the world. We want to reduce our environmental footprint to contribute to the wellbeing of our planet.
To achieve this, we will collaborate with the entire value chain, from raw materials to consumers.
First initiatives to achieve our ambition:
Implement ISO14001 and EMS
Reduce energy consumption
Move from fossil to sustainable energy
Our objective is to be net-zero by 2025 for our in-company production and reach net-zero in our entire supply chain and sales office by 2030.
3. Promote wellbeing of employees
We care to create a positive and inclusive working environment with engaged employees. At our production sites, we still have jobs that include repetitive manual work, sometimes resulting in injuries. Moreover, our safety performance is not yet where we want it to be.
It is our responsibility to support our employees so that they feel well, safe and included, regardless of their position. We want to engage our employees and create a work environment that is so positive that they are happy to recommend it to family and friends.
First initiatives to achieve our ambition:
Fit@Beaphar programme
Hybrid working
Improve HSE Performance
Define Ethical Trading and Human Rights Policy and Health, Safety and Environmental Policy
Donate a day programme, where employees can donate 1 working day to perform meaningful voluntary work in animal shelters or other pet related causes. 
Our objective is to offer meaningful and healthy jobs in all layers of the organisation, create an inclusive workplace and run a company-wide programme to nurture employee wellbeing and vitality.
*At Beaphar, we focus on specific United Nations' Sustainable Development Goals (SDGs) to help achieve our sustainability ambitions.
The Pet Sustainability Coalition
The Pet Sustainability Coalition (PSC) is a non-profit organization dedicated to creating a more sustainable pet industry. Beaphar is now an accredited member of the PSC. Our sustainability approach has been measured and verified. The PSC will help us to achieve the goals we have set, and continue to improve,  year after year.
The Pet Sustainability Accreditation is the only accreditation programme in the pet industry that measures and verifies businesses' sustainability claims. PSC provides independent oversight that ensures the credibility and accountability of the accreditation process. They demonstrate that accredited members are meeting robust standards of verified performance.